Accredited Debt Relief Reviews -
Can their Services Help You?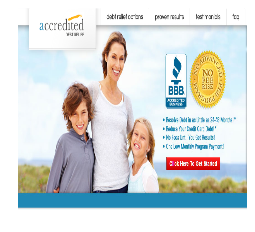 Is this company and their services something you can rely on? Is it a firm that is going to provide an effective plan for your debt and not make things worse for you?
Unlike many of the other Accredited Debt Relief reviews around the web, we take a look at the positives as well as the negatives of selecting this firm for your debt needs.

Looking for a quick answer?

Here is our conclusion:

We checked their rating with the BBB, we looked at whether they have any problems with the government, and we combed through the reviews from people on other websites. Then we double-checked everything.

Our conclusion is that they are a highly regarded company in good standing.

Their site is www.AccreditedDebtRelief.com.

In fact, it was difficult trying to discover any Accredited Debt Relief reviews that were damaging to their reputation. So they get a thumbs-up from us and from many other people that have actually used their services.

The site is easy to navigate. And you can learn more about the company and how it operates. Or you can go ahead and apply with them online.

The one issue we did find was that 3 people had a problem with communication on the part of Accredited. These issues have been resolved with the BBB.

Let's now go a little more in depth.

First, let's examine why you would want to go with this type of debt consolidation service.

If you're unable to qualify for a more conventional debt reduction program like a consolidation loan, then this is the type of solution that serves as a great second option.

It's easier to get admitted into a program offered by Accredited. The requirements aren't as rigid like when you try to get approved for a loan. That's why so many people in debt choose to go with a substitute program like this.
Accredited Debt Relief Unbiased Review
While scouring the internet for information on Accredited, we noticed that they don't have many negative reviews from current or former clients. There just aren't many complaints lodged against this company at the time of this review.
Visit Accredited and apply online in as little as 5 minutes.
And that's significant because they have been in business for a long time now.

No Advanced Fees

One of the ways you can tell whether a firm is conducting themselves in an ethical and legal manner is checking to see if they charge you before they even do any of the work. Accredited Debt Relief does not. This means you won't pay a penny until the work is done.
This is vital and lets you know they aren't just going to take your money and then not do what they are supposed to do.

After they find a solution and make sure it fits your circumstances, then and only then, a payment plan is setup for you.
This is essential as it takes some of the initial risk out of the way.

How is their service?

The one consistent aspect of this company that we found when researching it online was the outstanding customer service they provide.
We checked the reviews of customers on other websites and were hard pressed to find someone saying something unfavorable about the company.

The representatives are not only well-trained but are respectful as well. They understand and care about what a person is going through, and it seems to have really resonated with many of their current and former customers.

Being able to go to a person that understands what you're experiencing with your debt battle makes a huge difference and shouldn't be ignored.

It is something that stands out immediately with the service and how they approach each client. They make sure you are kept up-to-date and know what is going on at all times.

Fast application process...

How fast are they? From the moment a person's application is sent through, the process is expedited so you can get a quick answer on whether they will be able to help your cause. This enables you to figure out a plan B in case they aren't able to work with you.
You'll be able to look for another solution as fast as possible.

With the "no advanced fee" setup, and no obligation on your part to sign up with them, there is no risk to apply with Accredited Debt Relief.

Legally Sound

The methods employed by this service are not fishy nor are they illegal.
All debt settlement methods are processed in a legal manner following all rules and regulations as stipulated by the government. This is done to ensure a person feels safe about the process and how things are advancing.
The service clarifies all details beforehand and makes sure both parties are on the same page. The clarity of this process and how legally sound it is ensures you will be in good hands right from the get-go.
You can feel confident knowing exactly what you'll be getting.

Their site could have more info...

Despite being a well-trusted service with years of experience, it still requires more information on the main site. For a new person, this can lead to a few concerns and apprehensions that shouldn't exist with a trustworthy firm. For those going through reviews, it might not matter, but this is still a con that should be addressed.

A comprehensive service such as this should be taking the time to find out what should be listed on the site. This minor drawback does not dilute the quality of the service offered by Accredited Debt Relief.

Our final thoughts?

With www.accrediteddebtrelief.com, you'll know what you are getting. This is a well-reviewed service that has been around for years.
They have incredibly high ratings across the board and have helped thousands of people with their debt. If you're not able to get a loan with better rates, then ADC can help you with your goal of becoming debt-free.

With all of those things taken into consideration, choosing this service is an excellent idea and should be considered.